RFID in Manufacturing
RFID solutions, offered by Binary Semantics helps in automating operations, across manufacturing processes maintaining speed and accuracy in an assorted range of environmental circumstances.
Benefits to Manufacturers
Tendering concurrent information to the manufacturer to enhance operational abilities, RFID also offers immediate inventory tracking with minimal human intervention.
Following are the major benefits, offered by RFID solution in manufacturing-
Real time inventory update / inventory update on the run
Increased speed and efficiency throughout the retail process with fewer errors
Improved WIP (work in progress) report
Improved inventory optimisation / Improved reorder level indication
Optimum stock level / maximum stock utilisation
Materials movement tracking (both inbound and outbound)
Resembling the barcode technology, with a difference of contact less technology, it is also a supporting tool that automates processes and improves operations management.
Added Advantages
It is capable of diminishing labour requirement and human errors
Its on-the-run read/write capabilities makes it particularly useful in real time data critical business applications
No line-of-sight makes it applicable in several environments. They can be read through wood, plastic, cardboard - any material except some metals
Its faster read rate gives it an edge over competing technologies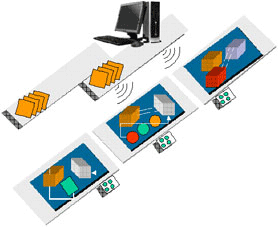 A Standard Tracking in Manufacturing Process Real Time Inventory: Linking of manufacturing floor to the retail floor in real time - Think.