Remote Management
With remote management services, our team manages and monitors your infrastructure from its development center. Our remote infrastructure management services include managing your servers, systems, applications among others. We identify your needs and requirements and accordingly lay out a detailed architectural plan and implementing it in a phased manner.
Our team is on the move round the clock servicing you and looking after your requirements. We have a proactive approach in detecting a problem and proactively take steps to rectify it before it might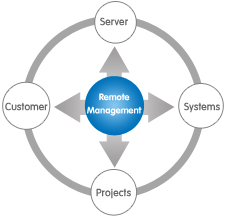 affect your performance. To benefit you with present clarity and future reference, we store the history of your infrastructure.
The team adopts a flexible attitude catering to both large and small businesses customising services accordingly acclimatising according to the requirement. Binary's remote management services are aimed at enhancing your performance and service levels apart from reducing your maintenance time.
Our other Infrastructure Management services include: